Welsh Section C Stallion. 1999. Rhosymeirch Surprise x Synod Ronaha
Ronan was bred near Cheltenham, Gloucestershire by Shirley and Terry Jones of Maenan stud and as a yearling he was sold at the Hay on Wye sales to Rob and Karen Curtis of the Polmesk Stud in Cornwall. Ronan very quickly captured the hearts of his new family and he became the resident stallion for establishing their breeding herd of Welsh Section Cs. He proved himself quickly when shown in-hand and collected tremendous results including 2 WPCS bronze medals and three supreme championships. However, the best was yet to come….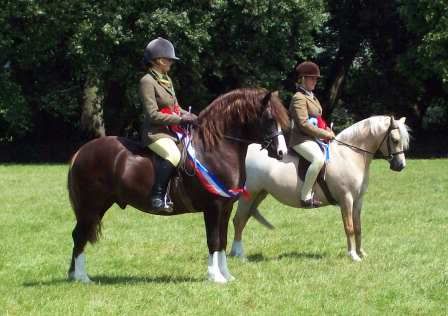 In 2006, as a 7 year old, Ronan spent the summer with Nicole Musson, a hugely experienced producer of Welsh Cs who qualified Ronan's sire, Rhosymeirch Surprise for HOYS only three years before. Nicole not only continued Ronan's in-hand career but she also broke him in and although she never competed him under saddle, she did all the important work that would set him up for his return to Cornwall. As part of her training, Nicole also sent him to Mathew Lawrence and Mark Northams yard in Bristol to refine and improve his ridden education. Early in 2007, Jenna Payne of Trekerwys Stud picked up the ride on Ronan and developed an excellent partnership with him. On only their second outing under saddle, they notched up their first supreme championship at the Native Pony Association (NPA) of Cornwall Spring show. Over the next few shows, it became clear that there was only one area that needed working on – the gallop!
Ronan never really felt happy to completely let go and fly, so before his first visit to the Royal Welsh he was taken to the beach for some training and was joined by a Welsh Cob mare, Hywi Red Rose at Perranporth Beach and it was her job to teach him how to gallop. They were ridden close together all the way to the beach and when they hit the sands, off she flew and Ronan, in his desperation to keep up with his new mare, very quickly found his feet and took off to catch her! He caught on very quickly and needless to say gave a very impressive gallop under the grandstand at the Royal Welsh; a gallop which earned him a hugely respectable 6th place in the Open Welsh C ridden class. Ronan's novice season continued with tremendous success including a 3rd in their only HOYS qualifier at Royal Cornwall and finishing 6th in the prestigious NPS Picton Novice Ridden Final. Jenna was expecting her first baby in February 2008 and as the season drew to a close, Ronan enjoyed a well deserved winter break from riding.
Within a week of the arrival of baby Harry, Jenna was once again back in the saddle preparing Ronan for his second season under saddle. Jenna's husband Jonathan showed Ronan in-hand and picked up some excellent results in Welsh and mixed classes. Ronan's ridden career went from strength to strength and 2008 was going to be the year dreams came true! Rob and Karen had worked hard to produce him for the Royal Welsh; the highlight of their showing calendar, and it paid off as he gave another tremendous gallop in the main arena to secure 5th place in the Open Welsh C class. Later that afternoon, Ronan gave the ride of his life to take 2nd place in the HOYS qualifier and earned his owners the golden ticket to Birmingham NEC. After the Royal Welsh, Ronan was given a break from shows and immediately before HOYS spent two weeks intensive training with Mathew Lawrence.
In October, came the week Ronan and his team had been eagerly awaiting, their trip to Horse of the Year Show. With gleaming tack and an immaculate pony, the team were up late into the night for their warm-up slot and returned again at 5am for a second warm-up before their big moment under the lights. Ronan found the warm-up very exciting and the two sessions proved invaluable to preparing him for the real-deal where he gave a tremendous performance, a super gallop and he and Jenna were rewarded with an impressive 9th place!
In 2009, due to Jenna's other commitments, Rob and Karen chose a new jockey for Ronan with Holly Noott. Holly guided Ronan through his third season, with placings in HOYS qualifiers but ultimately missing out on the elusive golden ticket. However, they finished the year in style by standing SWA WPCS Welsh Champion of the year. In 2011, Ronan and Holly were invited to the Welsh International Show to represent their breed in the Stallion Parade where he gave a great performance and displayed his trademark gallop under the grandstand. Rob recounted the tale to us "suddenly I realised, Ronan wasn't going to stop! The man stood beside me muttered "Uh oh, looks like we've got ourselves a bolter" and [Ronan] pelted out of the arena at full speed towards the stabling.  When I finally caught up with Holly, she was out of breath but beaming from ear to ear –"That was the best ride of my life!""
More recently Ronan has enjoyed a quiet life; continuing to provide excellent progeny for the Polmesk Stud where many of his daughters have been retained for breeding. Ronan's progeny are doing well in all sorts of disciplines, Polmesk Ruan Rambo has been particularly successful in the show ring under saddle and Ronan's 3 year old grandson, Trekerwys Credit Crunch, picked up his first WPCS bronze medal last summer. Another youngster preparing for his first season is the beautiful bay gelding, Polmesk Bramble and Rob & Karen hope very much to find a new show home for Bramble where his potential can be realised.
NPSW would like to thank Polmesk Stud for Ronan's story. If you have a pony with a special story – we'd like to hear from you!