Dunedin Monarch  is a thirteen year old Highland gelding by Muldoanich of Dalbrack. He has several children on the ground and is also now a grandfather! He is a half brother to the HOYS and RIHS champion, Dunedin Marksman (pictured right), as well as being closely related to many other successful Dunedin ponies, including this years HOYS qualified Dunedin Finale. He competes successfully in all disciplines including showing, working hunter pony and dressage.
George was bought in October 2006 after he was stabled next to us at the SWPA championship show in Wales. His handsome little face greeted us every morning and we noticed he was doing some fabulous rounds in the working hunter classes over the excellent course at the David Broome centre. One month later, he was advertised for sale and I begged mum for u to have him. She sent my elder sister, who happened to live not very far away to try him – despite her aversion to natives – she very much enjoyed riding him so a deposit was put on him and not long after we set off in the lorry. We decided that we would meet half way, so in we rolled to Exeter Services and parked up next to the only other horse lorry in there! George strode off one lorry and loaded into ours – satisfied that a haynet was there to greet him. One of the best traits of George is that he will load first, last and in, out as many times as needed and he is very food orientated and will usually do anything for a juicy apple or crunchy carrot!
When we returned home and settled him in his stable, we quickly realised that he was not happy in our stables so for the first year we owned him he lived out permanently. Although never a problem for his previous owners, we understood that he liked to be able to see his next door neighbours so we had a lovely double indoor stables built – his stable mate for five years has been our little Welsh C, Dragon – George and the Dragon. Another thing we realised is that George is the boss in the field – he is now always the first to come in and being a true sissy Highland he will jump the fencing in order to put himself to bed! Our first show came less than two weeks after he became ours and to my surprise he won the class and took the reserve championship – we were still in our snaffle as we hadn't sorted out what other bit to show him in so that was even better. To this day, I have always tried to ride George in his snaffle when hacking, jumping and obviously when we do dressage – we only put his Pelham in when we compete in the ridden showing classes.
In our first season of showing we had many excellent results, being well placed in HOYS and RIHS qualifiers as well as qualifying for various finals at the NPS championships. To end our successful first season together, we were champion in hand and young handler at the Native Pony Association Of Cornwall and went on to take the supreme. Over the winter we love competing at indoor show jumping competitions where we regularly beat the other ponies who may think we can't turn sharply (we can!!) In 2008, we started the season early with a BSPS Winter show. We won the novice mixed height workers and the novice ridden and were second to the lovely New Forest Willoway Lord Of The Rings in the open workers. Since then, we have competed regularly against him and his rider Charlotte and we are usually the only ones in our height section here in Cornwall. This year, after a smashing clear over a tough working hunter course at the NPS Cornwall show, I was very happy to be pulled forward as the winner. Later that year (2008) my sister Bryher rode him in the Cornish Combination class at Stithians and to my surprise they won and took the reserve championship. This year, I allowed Bry to ride him at Stithians again as she hasn't had much chance for showing and, in a strong large breeds class, they were pulled second. However, after a lovely foot perfect show they again took the top spot and collected the reserve championship. My biggest pride with George was taking the Highland championship at Royal Cornwall Show in 2008 – we received a lovely plate and for my 18th birthday, my mother had my rosettes and picture of us framed and it proudly hangs in our living room.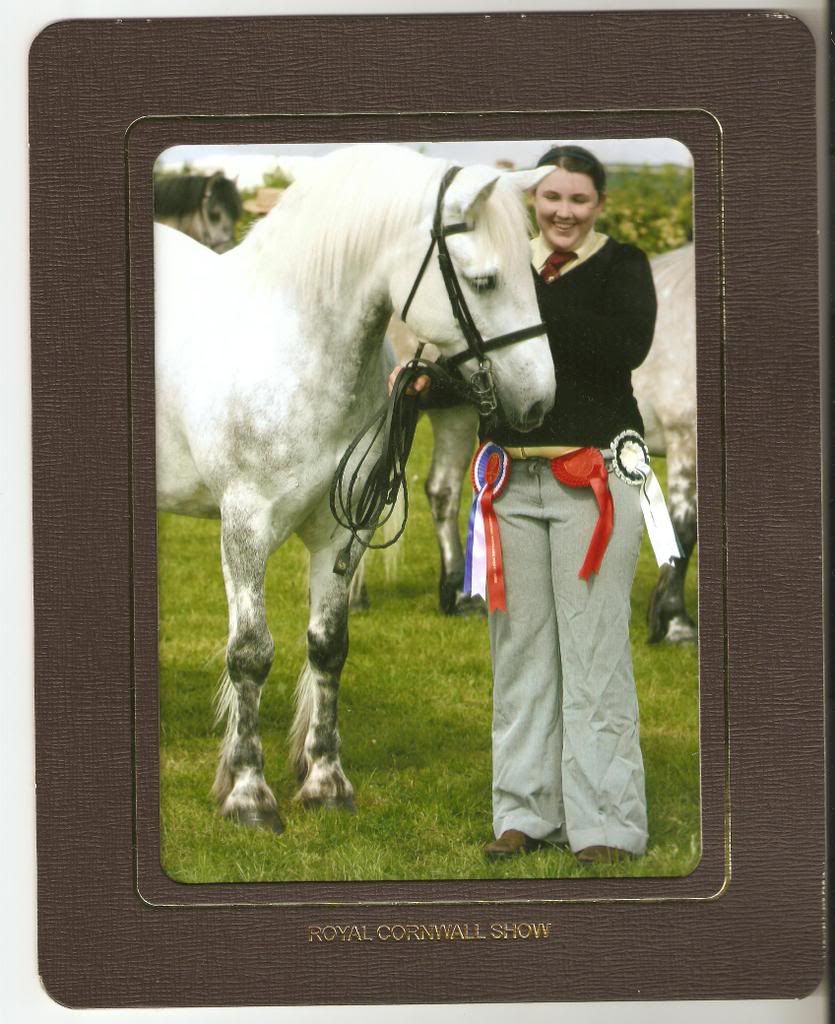 Over the years George has won countless red rosettes and championships for in hand, ridden, working hunter, show jumping and dressage. He is the ultimate competition pony and has given me six years of joy and continually proves that a hairy Highland is able to do anything. We have really enjoyed dressage this year and this winter we will be enjoying hacking out now that I no longer have to return to University again. George has a home for life here as I cannot bear to part with him – we all love his cheeky personality and his grumpy face after dinner. He might be a monster sometimes but he is a lovely comfy armchair to ride and always brings a smile to my face!