Dunkery Tawny Owl 78/142 (2004, Liqueur x Dunkery Corn Bunting)
by Jenna Payne
'Owly' is the love of my life – along with my husband and children – and he quite simply my pony of a lifetime. Owly arrived with us on a permanent lease from Paul Schmdt in April 2008 with the aim that we'd show him a little bit and hopefully ride him but he had a fairly naughty reputation so Paul really wanted us to put him on the straight and narrow for a few years. He was exhibited lightly that season with success, including an NPS Silver Medal championship, but more important than that, we enjoyed every minute of being with him and from the moment Owly arrived with us he was nothing short of a pure gentleman and a sheer delight to have on the yard!
In August, I felt it was time to begin training him for the ridden job. Here at Trekerwys we use traditional methods with a kind and understanding hand. We are very lucky to live in the heart of the old Cornish mining country and we have miles of riding along the stony tracks which have been used by horses and miners for centuries. These tracks are perfect for long reining which is the first step in our training and Owly greatly enjoyed walking out and seeing all the new sights and sounds, meeting other ponies and even long reing out with our other ridden ponies. Once Owly was fully established on the long reins we trained him on the lunge before backing him and he took everything in his stride. Paul was unaware that I had actually started training him until we met him at the NPS Champs. It was only 5 days or so since he was backed and I secretly tacked him up and rode him up to Paul – Paul was totally chuffed and we even had a trot around the showground.
A week or so later we took him to the beach to have his first canter. He was joined by another Exmoor, Northcroft Thistle and our foundation Welsh Cob mare, Bondleigh Lady in Silk. He loved the beach and learned to canter with ease – even cantering through the water! In October he went to his first show with our BSPS area and he finished 4th in excellent company with a foot perfect performance and a fortnight later he had his second outing with NPA Cornwall where he won the novice ridden class and stood overall ridden champion!Over the winter, we hacked him at home and took him hunting. Owly very rapidly showed his worth after our 10 month old son, Harry was given a child's basket saddle by his Grandparents for Christmas and Owly had the honour of wearing it. Harry adored (and still does!) riding him and beamed from ear to ear as he bumped along in his saddle. Owly's first time hunting was excellent, he loved the fast pace and the company and showed that even the small ponies can keep up!
In January 2009, he went hunting with a very special rider – my 8 year old cousin, Danica, was keen to try hunting and so Owly was her steed for the childs meet on the leading rein. Danica was lucky as Jonathan is rather good at running so they were able to keep up with the field far more than the other leading reins and Owly looked after his little rider beautifully.
At his first show of 2009, he was unable to compete as a novice due to his previous win and so took his first leap into an open class which to our delight he gave a tremendous performance and won. Later in the day there were some working hunter pony classes and the show organiser, Lucy Booth, was keen to get entries in. She encouraged us to enter but we had never jumped before. This did not deter Lucy, there was a starter stakes class and so she took me to the warm up arena and coaxed us over a few jumps. Owly just popped them like he had been doing it all his life and so we entered. The course was kind and inviting, but still had plenty of greenery and fillers, Owly sailed around like a true professional and not only won his class but also stood overall WHP champion.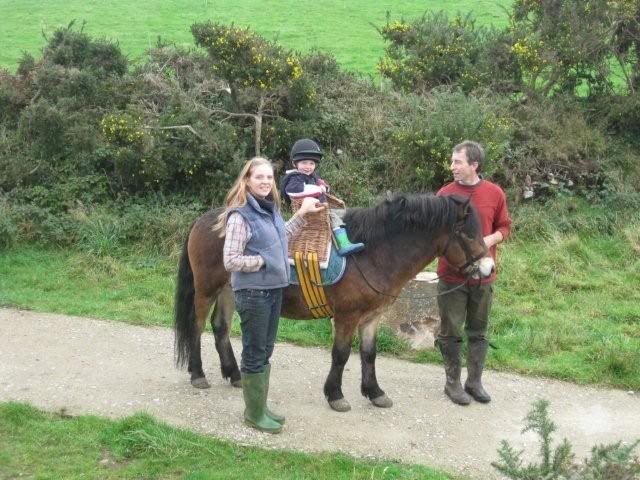 The summer of 2009 was spent training in the fields at home, hacking our beautiful lanes and enjoying going to shows. Owly had some terrific results at county level; 7th in the HOYS qualifier at both Royal Cornwall and Three Counties, 5th in the HOYS at the Royal Welsh and 1st prize in the Open Exmoor Ridden at Three Counties. He picked up NPS Picton & Open tickets (although did not compete in the open finals) with ease and had several championships locally. At home, we don't have any special facilities so all of our training is undertaken out hacking and in our field. We built jumps from crates, old fencing stakes, barrels and any 'oddments' we found around the yard and also took him to the woods to play over logs and other obstacles. Owly was routinely joined by other ridden ponies from the yard – primarily a Section C stallion and a Fell pony mare. At the end of August, Owly (and the other ponies) had a break from riding but a local native pony group had a Halloween Ride for children and we decided to take Owly and Harry. Not having been sat on since August and this was the end of October, I had no concerns with Owly's behaviour and he proved me right. We unloaded him from the lorry, popped his basket saddle and Harry on and off we went – both were a total credit to us and they enjoyed the ride.
In March 2010, after the birth of our baby Lowenna, I was back in the saddle only 2 days later and I began looking for new competition to try as we began slowing down our showing. We joined our local riding club and Owly and I took part in the dressage series riding a range of tests from the Preliminary level. Of the 7 dressage events held, Owly took part in 6 events and won 6 events finishing reserve dressage champion at the end of the year. We made the most of the riding club by participating in the showjumping events, the working hunter pony classes and attending training rallies for cross country and show jumping – Owly excelled in them all with many different riders!  Owly was then turned away in the September, following a wonderful season, but Harry and I couldn't resist a Christmas day ride together bareback with Owly!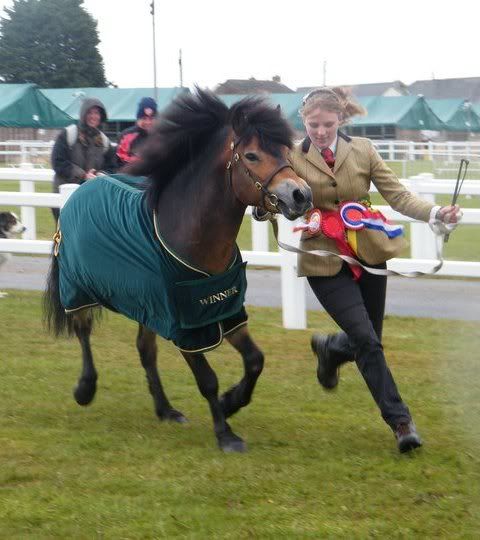 This summer, Dunkery Tawny Owl made one of my dreams come true. We've had reserve champion at county level in no less than four different native breed sections (Welsh C, D, Fell and Exmoor), but we'd never taken the top spot. In June, Owly stood Exmoor champion at this year's Royal Cornwall Show which left me crying with delight! It was very poignant that my favourite pony should provide us with out first county show championship on home turf and it is a moment I will never forget. He has been rewarded with his own herd of 4 Exmoor mares and has enjoyed the rest of 2011 running with them on a farm near Penzance.
I see Owly always being very much part of our family and future and I hope that Lowenna grows to enjoy the ponies like her brother, Harry, does. I know that the children will never be able to compete with Owly as he is a stallion, but that doesn't matter to me. I trust Owly implicitly and couldn't ask for a better steed for my two wonderful children. Owly is a true family pony; one in a million.